ELMHURST
YOU'RE IMPORTANT TO THE 2020 CENSUS!
Thanks to our guest speakers and all those who attended our October program (co-hosted with
Progressives for Change
) on the 2020 census. Remember, your participation is critical to a complete and accurate count! To learn more, click
here
.
Are you up-to-date on the issues that affect our community?
WE HELPED INFORM YOU ABOUT THE FIREARM RESTRAINING ORDER (FRO) LAW. PLEASE HELP OUR COMMUNITY BY SHARING THE FACTS!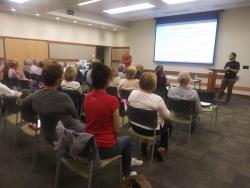 ALL SEVEN DUPAGE COUNTY LEAGUES SIGNED A LETTER URGING ADEQUATE FUNDING OF DUPAGE COUNTY'S ELECTION DIVISION.
Click
here
to read more in a recent
Daily Herald
article. We need to ensure that DuPage County utilizes only the safest, most efficient election resources ahead of 2020!
CREATING A MORE PERFECT DEMOCRACY
CREATING A MORE PERFECT DEMOCRACY: WATCH THE VIDEO BELOW TO SEE HOW THE LEAGUE OF WOMEN VOTERS WORKS TO ACHIEVE THAT GOAL!