La Grange LWV Registers 1000+ New Student Voters!
The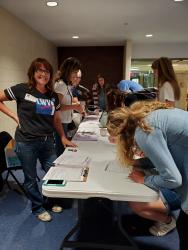 League of Women Voters® of the La Grange Area registered over 1,000 new student voters in September. The League worked with area schools to host voter registration events in celebration of National Voter Registration Day, a nationwide holiday celebrated on the fourth Tuesday of every September.  Over 75 volunteers, including League and community members, students, teachers and staff, held 5 events at Lyons Township High School in La Grange, Proviso Township High Schools in Hillside and Maywood, Nazareth Academy in La Grange Park, and DePaul University in Lincoln Park.
LWV La Grange Sponsors Program On the Illinois Firearms Restraining Order
On September 18, LWVLGA co-sponsored a program describing legislation to make our communities safer. The Firearms Restraining Order allows a family/household member or local law enforcement to petition for a court order to temporarily remove firearms from an individual exhibiting risky behavior. You can view a video of the program here.
LaGrange Area LWV Announces Goals for 2020-21
The Lagrange Area League of Women Voters will employ the tenets and positions of the League of Women Voters to encourage the active, knowledgeable participation of the residents of our communities in the political process. We intend to actively work with LWVUS, LWVIL, Cook County League, and ILOs to identify and pursue improvements in our government at all levels.
Encourage voter participation in our communities through voter registration and candidate forums
Educate the residents of our communities on issues affecting government, education, and the environment
Campaign for more effective and efficient local government
Actively lobby our local, state, and federal representatives on legislation affecting our communities
Promote diversity in our League and our communities
 The projects the League of Women Voters of the LaGrange Area will actively work on in 2020-2021 will include:
Pursue the elimination of the Lyons Township School Treasurer Office
Actively campaign for reasonable gun control measures
Partner with local community groups on issues of common interest
Study affordable housing in our communities and develop recommendations 
Cook County LWV Releases Updated Report on Pre-Trial Systems
With LaGrange LWV member Jan Goldberg as co-chair, the Criminal Justice Interest Group of the Cook County LWV has released a comprehensive update of its 2015 report on Pre-trial Systems in Cook County. In the original report, the group made11 recommendations to help ensure that pretrial operations are fairly and equitably administered within the criminal justice system of Cook County. These recommendations were put forth in order to ensure that pretrial systems efficiently and effectively serve the accused and the citizenry of Cook County. The purpose of this updated report is to summarize the progress made on each of these recommendations and to assess what further steps our criminal justice interest group needs to be take in order to further each goal. 
Download the complete report here.
LaGrange League Hosts Program on Gun Violence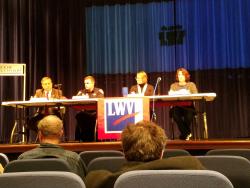 More than 50 local residents braved the wind and cold for a program on the impact of gun violence on our communities. Participating were Dr. Mark Cichon, Professor and Chairman, Dept. of Emergency Medicine, Loyola Medical Center, Officer Tim Andries, La Grange Police Dept. and LTHS North Campus School Resource Officer, Theresa Hirstein, LTHS Social Studies Teacher; and Pat Callahan, LTHS Teaching Assistant: Both Sandy Hook Promise Leaders and SAVE Co‐sponsors. See the video here.
League of Women Voters of the La Grange Area Sponsors Training Event for New Deputy Voting Registrars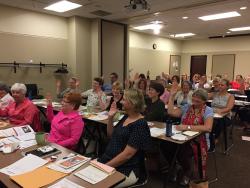 The League of Women Voters® of the La Grange Area (LWVLGA), along with the La Grange Public Library, sponsored a deputy voter registrar training  at the La Grange Public Library.
Twenty-seven volunteers were sworn in and can now register any Illinois citizen to vote in the midterm election on November 6th. Individuals who serve as deputy registrars play a vital role in the democratic process by registering people to vote, encouraging voter participation and enhancing the electoral process.
League Hosts Program on Legalizing Marijuana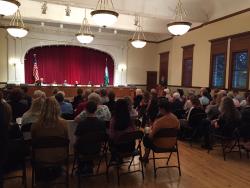 Over 150 people crowded into the La Grange Village Hall to listen to an expert panel discussion on the pros and cons of legalizing marijuana in Illinois. The "Great Marijuana Debate" was co-sponsored by the League of Women Voters of the La Grange Area and the Coalition for a Drug Free Lyons Township. Panelists included Heather A. Steans, Illinois State Senator – 7th District, Jim Durkin, Illinois House Minority Leader, Will Jones, SAM Communications Outreach Associate, Dr. Aaron Weiner, Director of Addictions (Linden Oaks), Reverend Alexander Sharp, Executive Director, Clergy for a New Drug Policy, and Chelsea Laliberte Barnes, MSSA, Director/Cofounder, Live4Lali Inc. Read all about the debate in the Doings article. And watch a video of the debate here!
Now Pay Your League Dues Online! 
Save a stamp! You can now use PayPal to pay your dues directly! Just fill in the Webform here.
Our Newsletter
You can read our latest newsletter here.
Ever Wonder Who Our Leaders Are?
Many of us have been asking for a listing of elected officials. If you go to our page on Facebook, select TOWN HALL from the sidebar and it will bring up all your representatives based on your address.
If you want a listing of phone numbers, websites, email addresses and mailing addresses for more than 4,000 federal, state, county and local officials elected in Cook County, the Cook County Clerk has just completed the 2017 Directory of Elected Officials (DOEO). Click here to access the DOEO and download a PDF copy of the document.
College of Dupage - Observer Report
Your LWV Coalition for College of Dupage observers will be paying close attention to further developments between the faculty and the Board at future meetings. The faculty association does not strike us as a group that will give up easily. Just when things seemed quite peaceful and calm, this controversy about faculty hiring pops up. One can't help but remember that it was a letter from the faculty association to the Board of Trustees in September 2014 about a vote of no confidence in President Breuder which led directly to the election of the Clean Slate candidates in April 2015. Click here for the current report.
Get LWV Action Alerts on your Mobile Device Using this New App!
The LWV of NYC has partnered with the Voices app, which is a mobile platform for different advocacy groups, including the ACLU and the National Organization for Women, to publish calls to action.
Please Visit Other LWV Sites
Here are some other great League websites to visit: