Manhattan/Riley County
Advocate. Educate. Inform. Empower.

Do you know who your local candidates are or what their positions are? Find out here.
Here is the Zoom video of the League of Women Voters of Manhattan- Riley County Candidate Forums,October, 18, 2020

Riley County Districts 2 and 3, Kansas House of Representatives Districts 51, 64, 66, & 67 and Kansas Senate, District 22
The forum audio was broadcast live on News Radio KMan, 1350AM – 93.3/93.7 FM
Co-sponsored by the local chapters of the American Association of University Women (AAUW), and the Manhattan Area Chamber of Commerce
Do you need a ride to drop off your ballot? Do you need a ride to the polls to vote?

In collaboration with the Flint Hills Area Transportation Agency (aTa Bus) of Manhattan, the League of Women Voters MRC and Alpha Kappa Alpha Sorority Inc. will provide FARE FREE rides to the polls Oct. 24 through Nov. 2. There will be Fare Free aTa bus service rides all day Nov. 3. Passes can be obtained from numerous local social services agencies.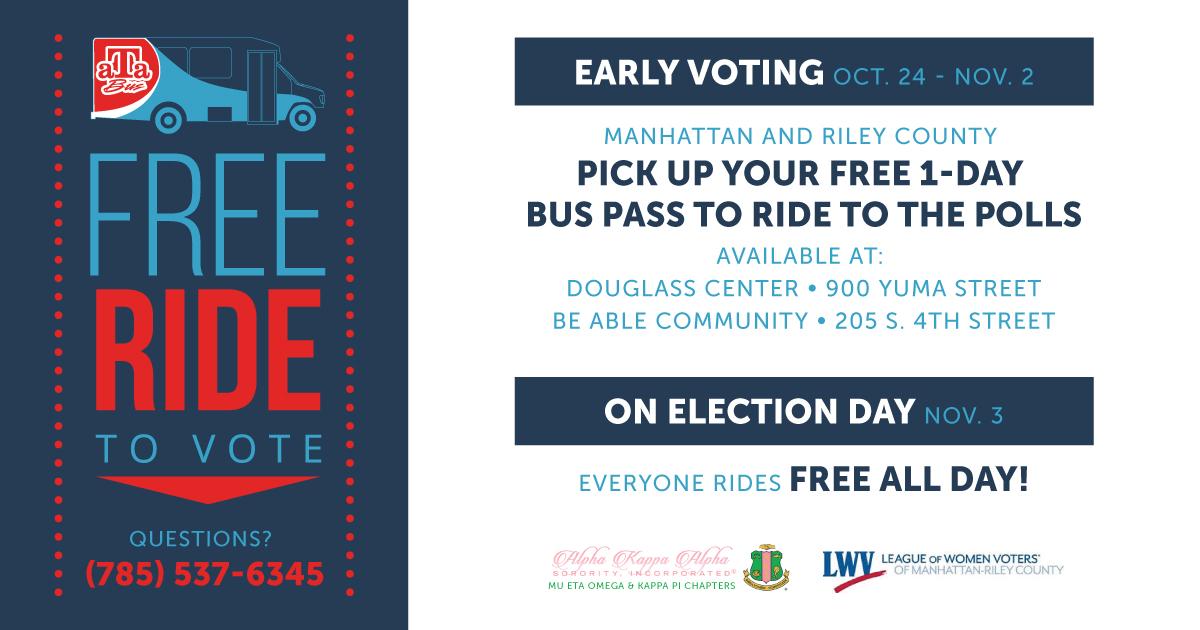 Questions about voting?   Contact us! 

 Are You Ready to Vote... but don't know what to do? If you have been looking for answers and can't find them, Contact us! We will have a local member get back to you. (We are non-partisan and will not tell you which candidates or parties to support.)

Be Sure. Be Safe.

Are You Ready to Vote? Want to Vote by mail?
Check your registration and get a mail-in/advance ballot at KSvotes.org. (How to fill out the form) (Mail voting explained) Find your polling place and see your sample ballot for Riley County here. Outside of Riley County, find your information here.  Elections Calendar here.Find more information and check out your candidates at Vote411.  Need to drop off a ballot?  Riley County sites here.
FAQs:
Here is a good overview, from the LWV of Johnson County, Kansas.
You must register before you can vote. If you move (even across the hall), change your name or sex, you need to re-register.  Do it quickly at KSvotes.org.  In Kansas, the deadline is October 13.
Students, you may register either at your family address or at your college address.  You need to decide what works best for you. (More information Here)

See how to use Riley County's new voting machines here. (You may always ask for a paper ballot.) 
Find out who is on the ballot and where the candidates stand on the issues at Vote411.
Take the Pro-Con Presidential Quiz .  (Note: This is non-partisan.  The League will never tell you who to vote for...it is your choice!)

You do not have to vote for every office. Learn what you can, but you may leave some spaces blank. Your ballot is still good.

If you have trouble, ask the poll workers for help.  That is why they volunteer.

If something goes wrong, you have the right to ask for a "provisional ballot."

Enjoy exercising your Right to Vote! "Because Democracy is Not a Spectator Sport."

Who we are:
The League of Women Voters, a nonpartisan political organization, encourages informed and active participation in government, works to increase understanding of major public policy issues, and influences public policy through education and advocacy.
The League of Women Voters Manhattan/Riley County believes in: respect for individuals, the value of diversity, the empowerment of the grassroots*, and the power of collective decision making for the common good.
League News:
We need to protect the vote!  Reverend Jonalu Johnstone of the Unitarian Universalist Fellowship of Manhattan addressed the LWVManhattan-Riley County with this important message. View here.
Keep up-to-date with LWVKansas actions here.
And from the LWVUS: LWV Calls on States to Expand Absentee and Mail-in Voting 
Please keep in touch (virtually) and take care of yourselves.
Calendar of events, click here.